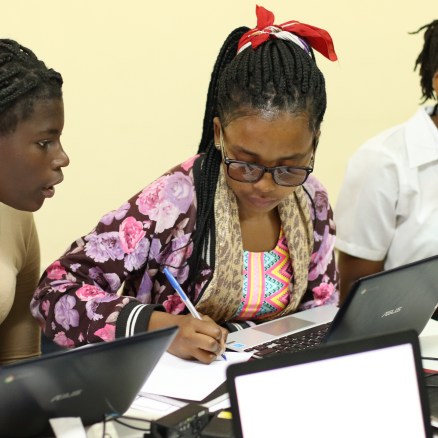 All girls in the program focus on classwork at school during the day, then attend both English and computer training at the Women's Center in the afternoon. The Khan Academy program is a favorite addition to their curriculum.

Girl's School Sponsorship Program
Each sponsored girl is also admitted to a program providing additional English and computer training at one of our Women's Centers. Program mentors provide additional support, helping them avoid early pregnancy and succeed in school. No Poor Among Us program participants achieve an 80% graduation rate, compared to a national average of just 11%. Upon graduation, No Poor Among Us works closely with each girl to identify employment opportunities.
Many Mozambican families lack the financial means to send their children to school. Our sponsorship program staff works with local community leaders to identify the girls who will most benefit from our assistance.
Sponsors receive information and a photo of the girl(s) they are supporting, as well as status updates on their progress.
Your donation of $200 sponsors one year of a girl's education, including school fees, books, uniforms, backpacks and supplies.